Description
Edit
This theme is due to the efforts of the following people:
Apple Computer Corporation for designing the Aqua GUI. Most likely all images are copyright Apple Computer 2000.
The author of the Marathon theme.
Tigert for his AquaOS theme, based on the Marathon theme.
The author of the AquaOS2 theme, based on the AquaOS theme.
Manuel McLure <mmclure at sac dot verio.net> for his Aqua2 theme, based on the AquaOS2 theme.
Justin Hahn <jeh at isomorphic dot net> who based this theme on Aqua2.
The following changes distinguish this theme from other MacOS X themes:
Cleaner frame parts: no part is dual purpose (i.e. button pieces don't include corners, etc.)
Proper button order, function, and mouse overs with respect to MacOS X.
Recent Changes:
Minor clean ups
Added clicked button stats donated by chrisw at globes dot net
Added shaded and shaded-transient window states
Now known to work with 0.30.3
Screenshots
Edit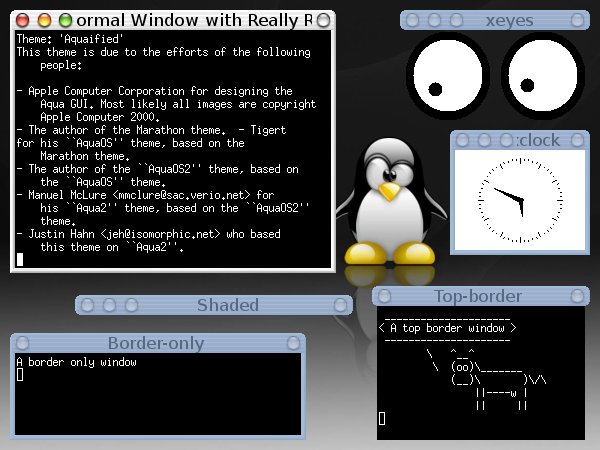 Community content is available under
CC-BY-SA
unless otherwise noted.