Author: Rami Valta <rami dot valta at pp dot inet dot fi>
Download: Aquarius.tar.gz
Description
Edit
Updated 01/03/2001.
Aquarius for sawfish is an attempt to bring some of that Mac OS X look and feel to sawfish.
Changed since the initial release:
Minimize/maximize buttons used to move left/right a pixel or two between focused/unfocused states. This was because the yellow minimize button was a one pixel too thin, and the maximize button in turn was too wide. This is now fixed. Wonder why no one ever pointed that out.
Inactive title bar is no longer blue, but white with lower contrast than the active one.
The resize tab is now a bit closer to the real thing.
Overall touch-up on the graphics.
Screenshots
Edit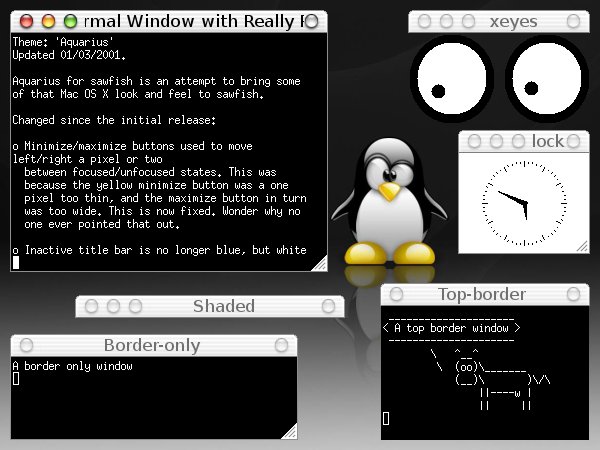 Community content is available under
CC-BY-SA
unless otherwise noted.