Author: Ioa Aqualine Petra'ka <ioapetra at qtm dot net>
Download: BySaws.tar.gz
Description
Edit
The original theme is from a Macintosh Kaleidoscope 'scheme', by Albie Wong. I did a little editing to it in an attempt to unmacintoshify it a bit. Such as removing the lower right corner resize tab and such. Also I don't know what the focus and button clicks look on the Mac since I don't have one, so I just did what looked good to me.
Did it originally with GimpMill, but I didn't get it to work consistently, so I used the sawmill-themer prog and a calculator.
20000330 - Minor revision
Changed the menu-class button to a close-class button. Changed graphic to represent change.
Added border to bottom of shaped-class.
Fixed transient-shaped bug.
20000326 - Minor revision
Did some pixel chopping. Should be a smaller download now.
Changed color of text to be more readable.
Slightly modified color mapping.
Fixed to work with 25.2
Screenshots
Edit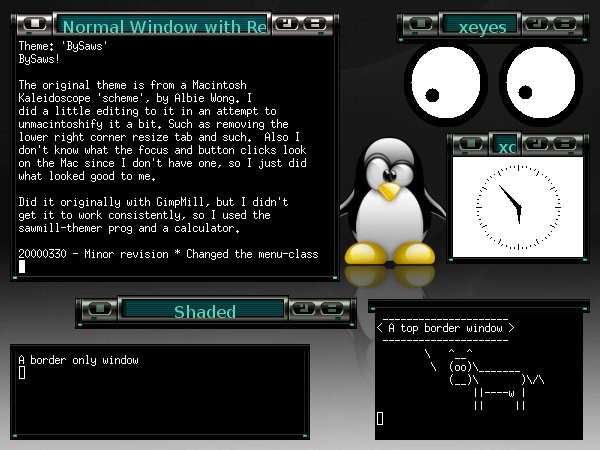 Community content is available under
CC-BY-SA
unless otherwise noted.