Author: Ito Yo-zi dot
Version: 0.12
License: GNU GPL 2 or later
Download: ebizorist.tar.gz
"The window frames shall be more distinguishable from the widgets in the windows and other frames."
Ebizorist is a colorfully framed, warped theme. It was produced as a prototype for the concept and tuned for 1600x1200 or higher displays.
And, below features are implemented too.
side kill buttons.
Large resize buttons at 4 corner.
Auto compression for long window titles.
Animation effects at focus/unfocus.
Tuned for localized envioronments.
The autor is not satisfied with this theme at below points.
Kill buttons shall be larger.
As design, buttons dont look like "able to push".
Color shemes of frames are not cool.
More resizing functions shall be added.
The brightness barances are worse. It will be mismatch to lighter desktops.
The customize panel for Ebizorist theme is not localized. (I dont know how to do it. mmmm)
My english skill is poor. :-<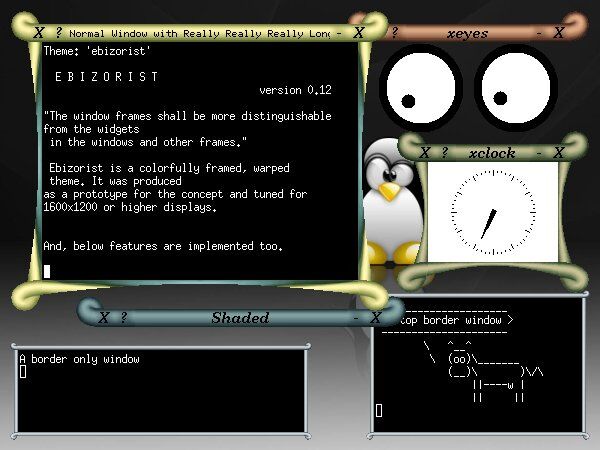 Community content is available under
CC-BY-SA
unless otherwise noted.