A modified version of Gleam as requested by Staffan Enboom <cybe at iki dot fi> with smaller titlebar and simple borders. The custom resize button has also been removed because it didn't make sense with the tiny 2 pixel borders.
The original version of Gleam was released by me in June, 2000 and has found its way into some default Gnome distributions with Sawfish. I really wasn't aware that anyone was still using it!
You can customize the colours of the titlebar, as well as the colours of the title text, and its alignment. There is also a custom shade button.
I've included a bunch of extra button images so you can feel free to change them around, or add custom buttons of your own (instead of the close/min/shade ones I have on by default). To make more buttons, start with "blank.png" and then draw on top of it. Then change the brightness and contrast accordingly: For the clicked version: brightness -100, contrast -50. For the off version: brightness +100, contrast -50. Just to keep them consistent with what I've provided.
Cheers, I hope you enjoy it. Comments are welcome.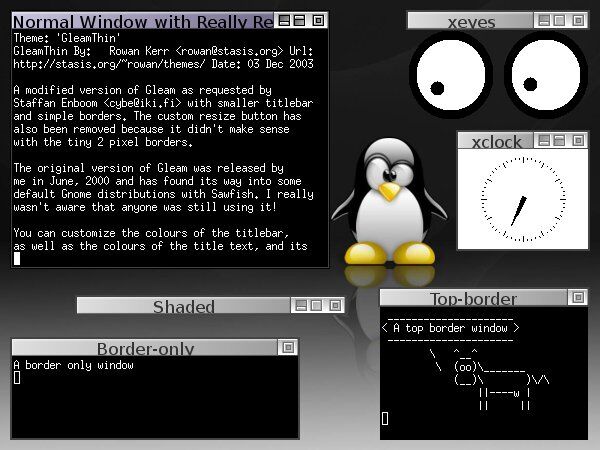 Community content is available under
CC-BY-SA
unless otherwise noted.