Author: Jason Henriksen <jason at h3c dot com>
License: GNU GPL 2 or later
Download: LiquidMetal.tar.gz
Description
Edit
This theme allows you tremendous flexibility.
Choose one of 42 patterns for the focused title bar!
Choose one of 42 patterns for unfocused title bars!
Recolor those patterns to any RGB color you like!
Choose any font color for focused or unfocused windows!
Supports Shade button to easily collapse windows!
Supports Sticky button to easily move windows between desktops!
Commented and indented code to help you learn how it all works!
This theme is a blend of Simple, Crux and BrushedMetalII. Without those themes, this theme would not exist.
If you are new to themes: Select this theme and press OK. Re-Click on 'Appearance' and you'll see a LiquidMetal Theme tab above the theme chooser. Click it, to configure the theme. Click 'Try' to test your changes.
Screenshots
Edit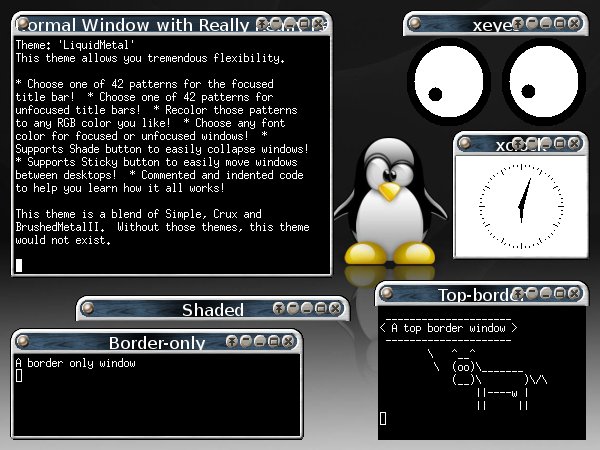 Community content is available under
CC-BY-SA
unless otherwise noted.