Author: Selene Scriven, sawfish-wiki at toykeeper (nospam) dot net
Original Author: Yann Hodique, Yann.Hodique (nospam) at lifl dot fr
Homepage: http://toykeeper.net/sawfish/
Synopsis
Edit
Tabbed windowing implementation similar to PWM or FluxBox... turns the titlebar into tabs, so that windows can be grouped into a single frame.
Description
Edit
This implements tabbed windowing similar to PWM or FluxBox. It requires several files, including a tab-enabled theme. Files and screenshots and more info are available here: http://toykeeper.net/sawfish/
An example of how it looks: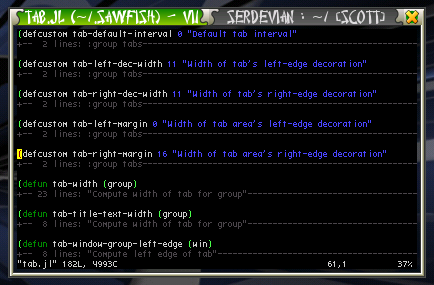 It's in Sawfish
Edit
This script is adopted in Sawfish-1.5.0
Community content is available under
CC-BY-SA
unless otherwise noted.